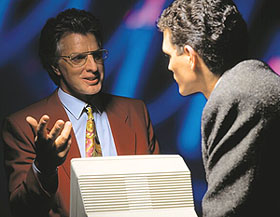 Correspond with Their Moods
If a person youre mirroring have lots of problems, don't come to him in a joyous mood and say, "Don't worry about it. Let's watch a movie so that you'll forget about whatever's bugging you."
Hes in a foul mood. He expects you to feel for him, to empathize with him. Match his disposition first, then say something like, "I feel bad for you. If there's anything I can do to help, just let me know." All he wants right now is to be with someone who has the same mood as he has.
A word of warning though. If someone has some really big emotional problems, and you mirror that person, you run the risk of actually absorbing his emotions. So do this activity in a low-risk situation.
News and Informations about Communication and Body Language