Understanding Body Language in Selling
Studies in Psychology tell us that the effect you have on others depends on what you say from the mouth (7%), the manner in which you say it (38%), and by your body language (55%). In addition, how you sound also imparts a message, so 93% of emotion is also conveyed without saying the actual words.
This is also true in selling. In the real world, we sell tangible items and also ideas. A concise way on how we can sell effectively is by simply using that old but very powerful arsenal known as body language.
When you sell, you can use postures, facial expressions, gestures, mannerisms, and your physical appearance to close the sale successfully. Most customers tend to buy when triggered by their senses. The key here is to do everything you can to positively affect their senses.
Most people believed the image projected by Saint Mother Theresa is a positive image. She used her personality to convey a constant image of holiness and sincerity. We bought the idea of her image.
Non-verbal communication also connotes that a man of few words is a man of credibility.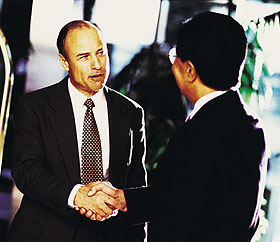 It's often not what you say that influences others; it's what you don't say. The signals that you impart using body movements suggest comprehension, disposition, morality, and compassion.
In selling, the instant you meet a target client, he is already examining you based on your image and perception in a span of ten seconds or less. This is a crucial moment in selling, as his first impression of you will definitely make a permanent mark.
Whether you make or break a sale can literally depend on the non-verbal signals that you send during this crucial first contact. Its a must for readers of this book to understand the facets of body language especially in selling. Americans, for example, are somewhat categorized as one of the best in reading body language, because they espouse thousands of non-verbal signs. This ability makes them formidable negotiators.
In addition, women are generally considered to be more adept to body language than men because of their natural built-in instincts. Now you know the secret why some women are more successful than men in the business or professional field.
As a rule of thumb, body language is being used most of the time all over the world. The most common example is a nodding head (meaning yes).
But it is not necessarily the case every time. For example, shaking legs might connote that a person is nervous, while it may just be a persons natural behavior. A persons eyes could evade you because hes hiding something, or it could also mean that hes extremely shy.
Given these intricacies, whats important is to analyze what the message really is. You can do it by looking at patterns. Look out for groups of signals that may have the same meaning in relation to the verbal expressions, and also in cognizance to the circumstances.
Once you have traced the patterns, it is easier to understand body language. It will therefore help you make a sale.